For Immediate Release
Contact:
Peter Roveto
Brookline Bank
617-730-3500
BOSTON, MA (March 7, 2023) – Brookline Bank announced today that Polina Frenklakh has been named Manager of its Newton Centre banking office. Ms. Frenklakh has more than 20 years of experience serving clients in the Newton area, most recently as Manager at Brookline Bank's Newtonville office.
"Polina's commitment to excellence makes her the perfect candidate to lead our Newton Centre office," said SVP and Regional Manager Rob Callahan. "She's a proven veteran of the banking industry, with long-standing ties to the community. We look forward to the benefits Polina's expertise and leadership will bring to our clients, as well as to the Newton Centre staff."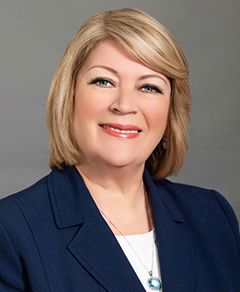 Polina Frenklakh – Branch Manager
Contact Information:
617-243-3070 ● pfrenklakh@brkl.com
Frenklakh has a Bachelor of Science in Civil Engineering from the Belarusian State University of Transport. She is bilingual, speaking English and Russian, and currently resides in Chestnut Hill, MA.
About Brookline Bank
Brookline Bank is a subsidiary of Brookline Bancorp, Inc. (NASDAQ: BRKL), and is headquartered in Brookline, Massachusetts. A full-service financial institution, Brookline Bank provides individuals and businesses with deposit and lending services, residential mortgages and home equity lending, commercial and CRE banking, cash management and foreign exchange services, and access to investment and wealth management services. Brookline Bank has convenient locations across greater Boston and the North Shore. For more information go to brooklinebank.com. Brookline Bank is an Equal Opportunity and Equal Housing Lender. Member FDIC.
###